Editor's pick: 7 luxurious watches of 2022 in 7 different colourways
The first half of 2022 has been encircled by heaps of groundbreaking and innovative watches.
Amongst all the colorways, red is the colour of passion, fortune, and fierceness. If you wish to stand out from the crowd with an eye-catching watch, MB&F's M.A.D.1 Red is undeniably what you have been looking for. In the world of M.A.D, watches are not simply timepieces but a form of kinetic art. Featured in cherry-red, with a visible and triple-blade winding rotor on the dial, the latest M.A.D.1 Red is powered by a Miyota 821A movement. Unlike the previous version which was limited only to the company's connoisseurs, M.A.D.1 Red is attainable to a wider audience at 2900 CHF via a lottery. In other words, obtaining this unique timepiece requires luck and chance. 
  (Source: MB&F)
Orange is an attention-grabbing colour that is often associated with a feeling of warmth and brightness. Is orange too invigorating for classic watches? The orange version of Seamaster Planet Ocean Ultra Deep refutes the perception. Released by Omega in March 2022, this Ultra-Deep Seamaster is not only functional but dynamic in the outer. The Seamaster collection is known to be one of the most prominent in the world of diving watches. With water resistance to 6000 meters, the durability of Ultra-deep watches is guaranteed. Featuring an orange ceramic bezel, and orange accents on a gradient black-gray dial, this watch is offered in titanium and the O-megasteel. Both materials manage to resist pressure and ensure better protection away from scratches. (Source: Omega)
Yellow gold symbolizes extravagance, affluence, and prestige, as does Vacheron Constantin's latest introduction of The Les Historiques 222 in yellow gold. Vacheron Constantin has reinterpreted its representative sports watch in the 1970s by releasing the 222 edition in 18K yellow gold for the brand's anniversary. The integration of the bracelet and the case remains an iconic feature of the original design, with a little change in the movement from caliber 1121 to caliber 2455/2. Both the case and bracelet are made of 18K 3N yellow gold, while the dial is also featured in gold-toned which represents magnificence and captivation. If you are a die-hard fan of the 222 edition, you will be amazed by how faithful yet innovative the reissue is! 
 (Source: Vacheron Constantin)
The color "blue" represents tranquility and calmness. Easily represented in the Rolex Day-date 40mm in platinum with a fluted bezel in ice blue. Day-Date is one of the most well-known Rolex collections which was first presented in 1956. With the adoption of caliber 3255, the accuracy and energy efficiency of Day-date is assured. Different from the previous day-date 40 with a diamond-set bezel, the new release is replaced with the fluted bezel, an iconic feature of Rolex watches. It is also Rolex's first attempt at producing a fluted bezel in platinum rather than gold. The combination of pale grayish-white and ice blue goes well and flatters our skin tone.
 (Source: Rolex)
Green represents freshness, harmony and nature. Montblanc has announced its new 1858 Iced Sea Automatic Date in green as the German brand's very first diving watch. The inspiration for the dial colors comes from the actual colors seen in glacier ice, inspired from that in Antarctica that is turning green because of the rapid growth of microscopic algae. The date window is located on the right edge at 3 o'clock designated for left-handed watch wearers. Served with a stainless steel bracelet, it is equipped with a unidirectional green bezel. To guarantee its ability to withstand water pressure while diving, the watch has a water resistance at 300 meters which is suitable for divers. Don't miss this out if you are looking for a refreshing-looking wrist watch for diving! 
  (Source: Montblanc)
White is a color that goes well with any other colour. It denotes innocence and purity. The Grand Seiko SLGA009 "White Birch" Spring Drive Caliber 9RA2 is a new version of the automatic SLGH005 white birch, with slight amendments to the movement and dial. Featuring a silvery-white dial, the dial is designed to capture the beauty of white birch and create an impression that one is surrounded by white birch while appreciating the dial design. The caliber combines both the benefits of quartz movements and the eternality of automatic watches, with the brand's hybrid Spring technology. Released in February 2022, the watch is offered in unlimited quantity at EUR 9,500.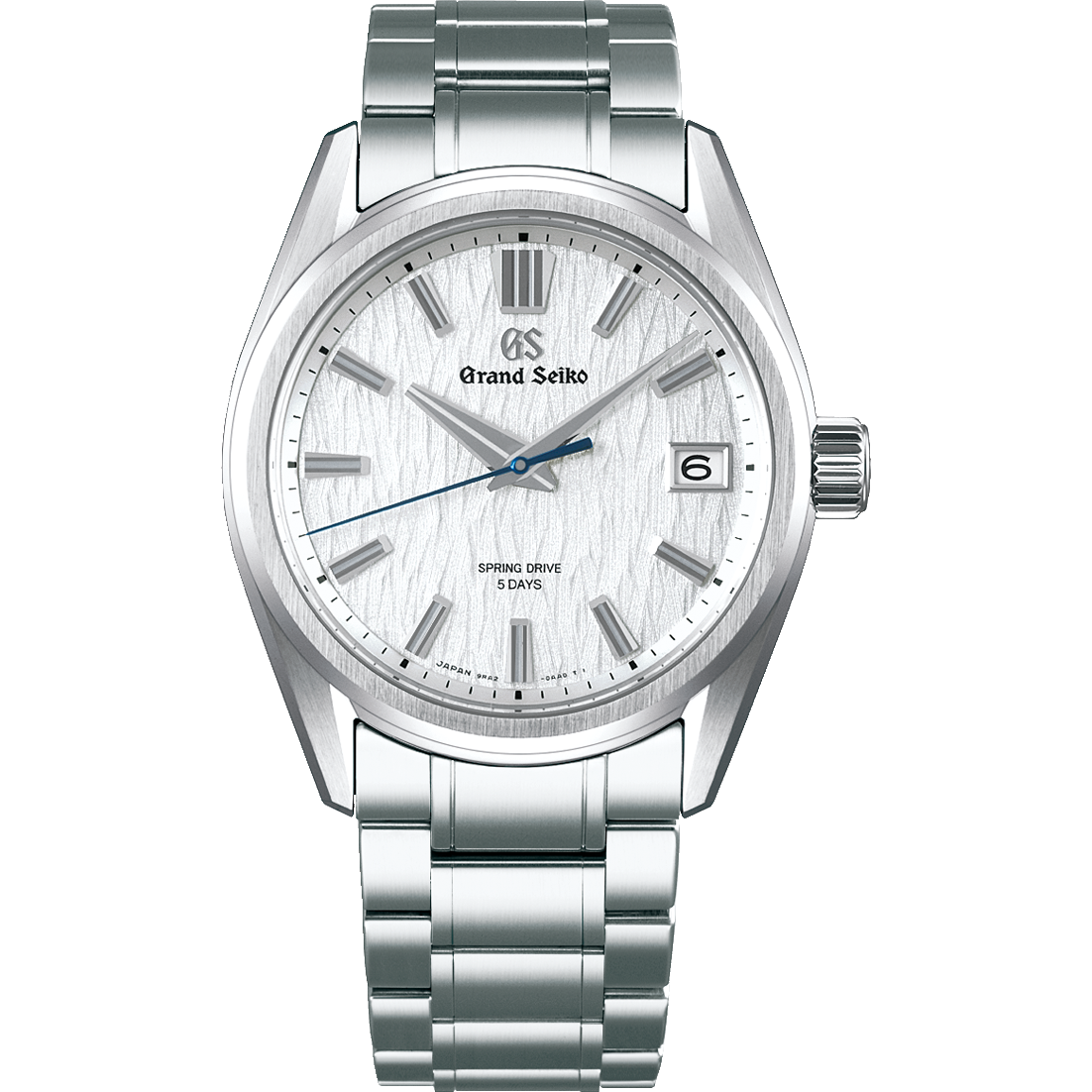 (Source: Grand Seiko)
When pondering over a colour that alludes mystery, Gray flashes to the mind immediately, even though it might not be the most striking and arresting. The Masse Mystérieuse in gray is a skeleton watch released by Cartier. Featured in a 43.5mm 950 platinum case with an alligator leather strap in charcoal gray, the watch is a symbol of self-effacement and modesty. To sustain Cartier's signature, the watch crown was created using ruby cabochon with total use of 43 jewels to stabilize the inner movement. According to Cartier, the brand spent eight years developing the new caliber 9801 to create a fusion of traditional craftsmanship and modernity. Limiting the availability to 30 pieces, the Masse Mystérieuse is unique and prestigious.
   (Source: Cartier)