Luxury watches that stir up controversies
Have you ever found any watches unappealing while they are complimented by other watch enthusiasts? There can always be diverse opinions when a new watch is released, but it doesn't define whether it is a good one. Here are four luxury watches that gain greater exposure thanks to the heated discussions among watch lovers. 
Three years after the release of the stainless-steel Odysseus, A. Lange & Söhne introduced a titanium version of it in April 2022, limited to 250 pieces. This timepiece is featured in a titanium case with an integrated bracelet. To produce a pleasing visual combination, the dial is in ice blue which is consistent with the cool tone design. It is run with a Datomatic L155.1 movement and has a power reserve of up to 50 hours. With a water resistance of 120 meters, it serves as a sports watch that is still functional under water. Yet, this titanium version is controversial because it did not evolve much, which might fail to surprise collectors. This Odysseus is identical to the previous version in terms of the use of the same movement, crown, and safety bucket. Not everyone adores the integrated bracelet design, and it is agreed that the titanium version is overpriced. Considering it as a watch that is worth $56,500, enthusiasts are expecting more innovations that differentiate this Odysseus from the previous one.
The left side shows the stainless-steel version while the right side is a picture of the titanium version.
(Photo Source: A. Lange & Söhne)
 The next debatable collection goes to the Vacheron Constantin Métiers d'Art collection, which also surprised me when I first saw the photo of it. In collaboration with the Louvre, the dial designs are inspired by the museum's exhibits. There are four in total : Grand Sphinx de Tanis, Lion de Darius, Victoire de Samothrace, and Buste d'Auguste. These 42mm Vacheron Constantin watches are supported by VC's self-winding Manufacture Caliber 2460 G4/2, and each of them is offered in the availability of 5 pieces. In other words, this collection is rare and precious not only to connoisseurs but also to those who admire antiques. Yet, this collection is more like artwork instead of a timepiece as mentioned by different enthusiasts. Its time telling and date reporting functions can be confusing since they are located near the edges of the dial respectively: with hour shown in the top left corner and minute in the top right corner. One might find it difficult to spot the date and time at a glance, and therefore some people think this watch is not genuinely functional. While time reporting may not be its priority, its exquisite designs and efforts to preserve historical pieces are praised. 
(Photo Source: Vacheron Constantin)
Rolex Daytona Saco also stirred up split opinions when it was once released in 2004. The dial of this watch is orange which features a leopard print. Ten diamonds are used to decorate the hour markers while forty-eight extra diamonds are placed between the dial and the strap. This timepiece also comes with a leather strap with leopard print, with the intent to make it look visually captivating and extravagant. However, the design was not generally accepted at that time, and some believed it was too outlandish and unconventional to wear on a daily basis. The design is audacious, but definitely not your pick when you want to have a watch on your wrist with you to work. While this Daytona Saco might look too aberrant in the 2000s, it is intriguing that it somehow fits in today's aesthetic sense - people adore items with eye-catching and vigorous designs. This leopard Daytona will surely catch people's eyes if it is seen on any social media platform nowadays!
(Photo Source: Bob's watches)
Omega Aqua Terra was widely discussed among watch enthusiasts when the brand announced the release of different dial colors this year. Running with a Co-Axial Caliber 8800, equipped with 150-meter water resistance and a decent appearance, this timepiece is often described as the hybrid of a dress watch and a sports watch. 2022 has been a very different year, in that the use of vibrant color has become à la mode. Omega also followed the trend and released 10 new dial colors for the Aqua Terra: with the 38mm variants featured in vivid tones (Sandstone, Saffron, Terracotta, Bay Green and Atlantic Blue) and the 34mm versions offered in muted colors ( Lavender, Lagoon Green, Sea Blue, Shell Pink and Sandstone). The new releases are refreshing and playful but receive multiple comments that they resemble Rolex's Oyster Perpetual - which is also offered in plenty of colors and has already been on the market for a year. Moreover, the design can be disappointing as the date aperture is located at six o'clock which does not make reading time easier.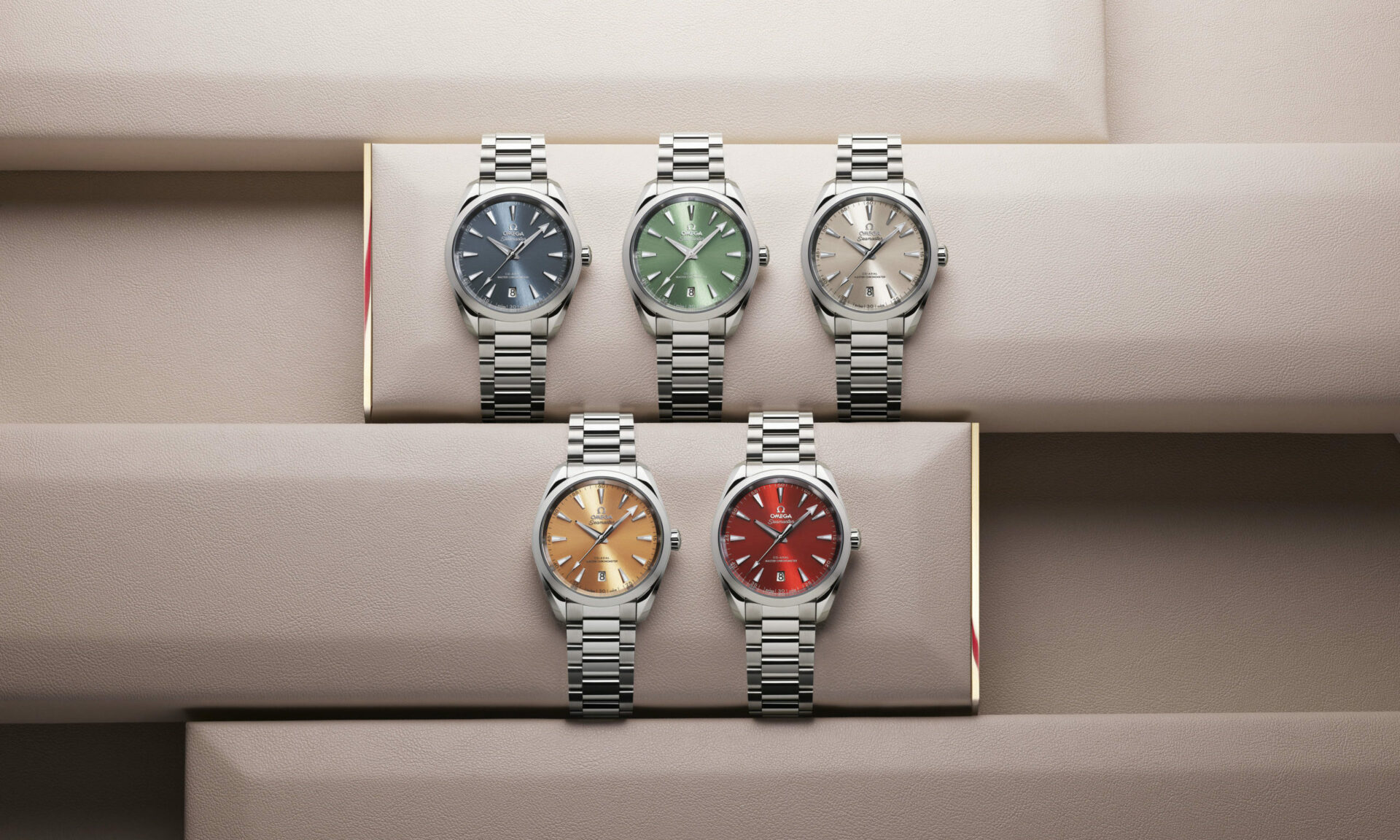 (Photo Source: Hodinkee.com)
Admitting the truth that some watches might not be as pleasing or as functional as expected, we could still keep an open mind about them - It is always about preferences and expectations.